Hello Everyone! Hope you're all enjoying the last of the lazy days of summer…though they could hardly be called lazy at the distillery! This has been one of the busiest summers in memory – here's the latest about what's been happening.
The Solar Eclipse

On Monday, August 21, there will be a total solar eclipse! It's being called "The Great American Eclipse" because we will be the only country to
experience it and it will be the first to cross from coast to coast in the Continental US since 1918. Missouri is one of 14 states lucky enough to have cities that sit in the "Path of Totality", directly under the moon's shadow, providing the best
viewing opportunities. Weston is one of these cities! The crowds and traffic that are expected have resulted in a rare non-holiday closure of McCormick Distilling Co. on that day. But we'll be hosting an eclipse viewing party at the Welcome Center – guests will snack on Little Debbie Star Crunch and Moon Pie snacks and we'll have food and eclipse-themed cocktails available for purchase. This event filled up shortly after it was announced!
We've Gone Viral!
We mentioned in the last newsletter that we'd started making cocktail videos for all of our
premium brands. The Tequila Rose Strawberry Shortcake video that we emailed you about in mid-July has gone on to be a true viral video. It's been viewed over 2.2 million times on
Facebook and has received hundreds of thousands of likes/comments/shares. It's been fun to see how many of the comments were among friends reminiscing about the first time they had Tequila Rose together – there is still so much love and nostalgia for this brand! If you're not
already following Tequila Rose and our other brands on social media, we hope you'll check us out and start sharing this content yourselves!
Distillery in the News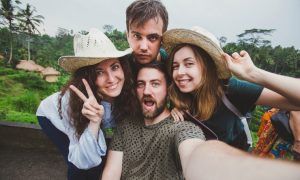 We were recently featured on the national website Bustle as an "Awesome Day Tour That is Worth the Trip"! (OK, technically the article is "Weird and Awesome Day Tours That are Worth the Trip", but we all know that we got written up for being
awesome!) Thanks to all of the incredible Welcome Center team who are giving our guests a great
experience and helping us get this kind of
recognition! Click on the image to read the article.
International News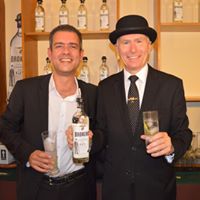 Peter Martin has been busy taking his Broker's Gin Masterclass experience all over Europe! He
recently held two classes on the Portuguese island of Madeira, hosted by the Madeira Bar Tender
Association. The Masterclass is a fun and
educational event that teaches consumers about the history of London Dry Gin and allows them to make comparative tastings against other brands. Gin is the fastest growing segment on this beautiful holiday island, and in the blind tastings against other gins, Broker's came out on top!
KeKe Promotions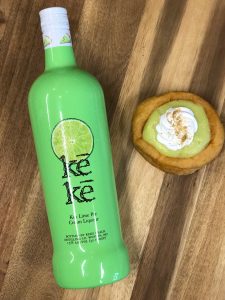 It's the Summer of KeKe! Our sales team has been hard at work setting up KeKe tastings and promotional events in a few target markets throughout the country. They're hosting fun events promoting "The Wedgie" (a chilled shot of KeKe) and "The Atomic Wedgie" (a chilled shot of KeKe layered with Tarantula Azul). Customers are going wild for the shots (and for the wedgie-themed giveaways)! Jessika Downing set up a particularly tasty-looking promo with the Doughnut Lounge in Kansas City – it's not often you have to show ID to get a doughnut! And Bre Banks has been taking New Orleans by storm with her many successful events there. The local ABC station in New Orleans even did a KeKe taste test for their "News with a Twist" segment, which you can watch in the clip below. Be sure to visit kekelime.com for lots of great cocktail recipes featuring KeKe!
Employee Spotlight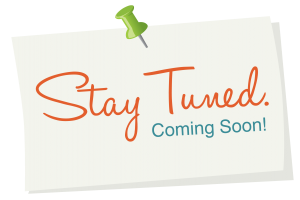 After much discussion about how to select an
employee for recognition each month, we've come to the conclusion that every McCormick employee has a story to tell and deserves their moment in the "spotlight". So starting next month, we'll be
sharing the many stories of the people who make this company great, starting with the ones who have been here the longest (as far back as the 1970s!) We bet there are incredible stories to be told about what distillery life was like 40 years ago.
Happy Birthday to you…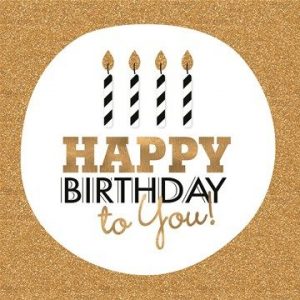 August 1: Bryson Dixon
August 2: Rachel Hunt
August 3: Deborah Searcy
August 4: Alberto Navas
August 6: Lori Bomberger, Gaby Fernandez
August 7: Dennis Cohorst
August 9: Breanna Banks
August 10: Jasmine Trautloff
August 11: Tony Eady
August 16: Randy GrandPre, James Stevens
August 17: Eula Hunt, Trevor Kocour
August 18: Bruce Roach
August 21: Sherri Frost, Toni Yeager
August 22: Christina Sutton
August 25: Terri French
August 29: Doug Cox
Happy Anniversary to you…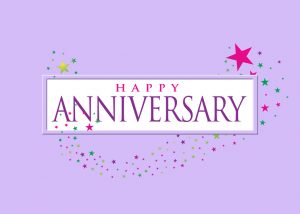 We have a few employees celebrating milestone
anniversaries this month! Congratulations and thank you for all that you do at McCormick!
10 Years: Ranee Linn
10 Years: Dustin Ohlensehlen
5 Years: Mary Anne Strasburg
McCormick Family Faces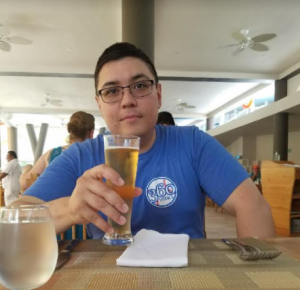 Douglas Cox II showing some 360 Vodka pride while on
vacation in Quintana Roo, Mexico!
Joe and Casey Quinn recently welcomed daughter Frankie to the world! Here she is with her big brothers, Eli and Cruz. Congratulations to the Quinn family!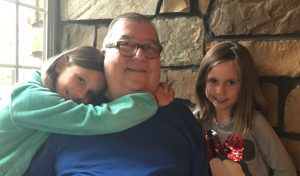 Even the Chairman gets to relax in the summer! This is Ed Pechar with his granddaughters, Chloe and Grace.
Finally…Have You Seen This?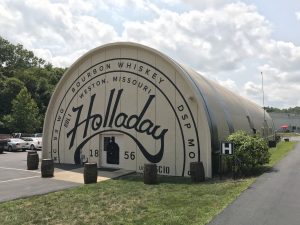 Employees who don't work on site may not have gotten a chance to see this latest addition to the distillery grounds. Remember the quonset hut next to the Pavilion? It's gotten a bit of a makeover!
We'd Love to Hear From You!
If you have news to share or would like to send us pictures of your own family members, please reach out to us at monthly@mccormickdistilling.com!