Presenting the new and improved employee newsletter! Here's the latest on what's happening at the distillery. Hope you are all having a wonderful summer!
Distillery Tours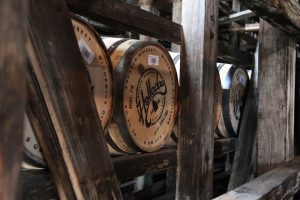 Did you know that the first time an employee takes the distillery tour, it is FREE for both you and your immediate family members? If you haven't already done so, the summer is the perfect time to do it. The tour tells the remarkable story of this 161-year-old property and highlights the many changes the business has undergone in that time, in addition to showing everything from the bourbon distillation to the barrel warehouse to the bottling lines. It also includes a tasting in the Welcome Center for guests who are 21 and over! The free tours are available to employees Sunday through Friday.
Cocktail Videos
One of the ways we've started to market our brands is to use demonstration cocktail videos to give our customers (and friends!) a fun look at what they can do with these products. We have dozens of them already (with more on the way), for recipes that include 360 Vodka, Broker's Gin, Tequila Rose, KeKe, Tarantula, and Hussong's. You can share them on social media or email them to your friends, and for our sales reps these are an incredible tool to show off our products to distributors and accounts. Let us know if you need help accessing these videos!
International News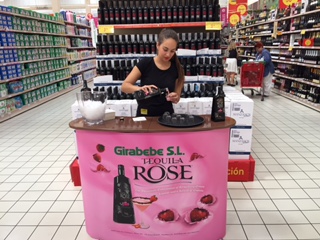 Tequila Rose has seen triple-digit growth in Spain over the last four years! The brand has a presence in five national retailers, including Al Campo, one of the largest chains in Spain. The target audience is young and female and is
being reached by a wide tasting program in
supermarkets throughout the country,
particularly in the Spanish holiday resort areas. In Spain, Tequila Rose is often merchandised in the Tequila section rather than with the cream liqueurs. Congratulations to the international team for this very successful partnership with Spanish import company Girabebe.
National Sales Meeting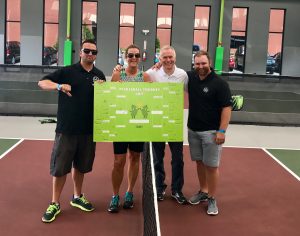 A big thanks to Julie Kocour for her efforts in
organizing an incredible National Sales Meeting! The energy and enthusiasm at this year's meeting were noted by all. Welcome to the newest
members of the sales and marketing team (Jessika Downing, Robert LeBlanc, Mark Carter, Phil Kizziar, Josh Yavitch, and Bre Banks) and congratulations to our sales award winners (Joe Quinn, Shawn Scott, Shanna Meyers, Mike Dry, Kelly Sporich, Molly LaChance, Shelly Evans, and especially our multiple award winning team from Florida, Doc
Sullivan and Lou Suffredini)!
Julie also organized a pretty spectacular First Annual Pickleball Tournament for this year's
meeting. She and her partner Patrick Fee (aka "The Sore Loser") were a formidable team and made it all the way to the finals, but were ultimately no match for the decisive champions, Peter Martin and Jordan Scott.
Employee Spotlight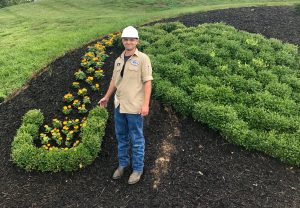 We are happy to feature DAVID MELTON in this month's Employee Spotlight. David has been with McCormick for nine years and works as a night maintenance technician on the afternoon shift. He was instrumental in getting all of the new packages running on Line #4 and he has a direct impact on line efficiencies by handling the package changeovers at night. He also has a near-perfect attendance record! He was one of the first
employees to take the distillery tour, and his
favorite McCormick product is Triple Crown. Fun fact: He likes it so much, he sometimes even adds it to his chili! Congratulations, David, and thank you for your hard work and many years of service to the company. You will be receiving a $100 gift certificate that can be used at either McCormick on Main or the store at the Welcome Center.
Happy Birthday to you…
July 1: Tomi Hawk
July 8: Tony Tabaka
July 11: Bryan Hobbs, Ed Pechar, Sharon Wymore
July 14: Mike Dry
July 15: Barbara Miller, Robert Phillips
July 16: Harrison Shipman
July 20: Jeffrey Pickman
July 25: Jeffrey Sutton, Kevin Rhodes
July 30: Lisa Williams
July 31: Roger Knowles, Cliff Hobbs
Let's Go Royals!
After a slow start, the Royals are only a half-game out of first! 360 Vodka is in its third year of partnership with the team, and our presence at the stadium is nothing short of phenomenal thanks to the efforts of Joe Quinn and Mark Carter and the local team. If you make it to a game this month, you might catch the promotional video for this year's Royals bottle playing at the stadium!
We'd Love to Hear From You!
If you have news to share or would like to nominate a co-worker for recognition in our Employee Spotlight, please reach out to us at monthly@mccormickdistilling.com!