You wouldn't know it from the weather in Weston this week, but today is the official first day of fall! Cooler temperatures and changing leaves are right around the corner, and the distillery will soon be humming with the many visitors who come to Weston for Applefest and Irish Fest. Here's what else has been happening this month!
Blues News

Do we have any hockey fans in the house? We are extending 360 Vodka's presence in the great State of Missouri by
partnering with the St. Louis Blues! We announced last week that we have signed a multi-year deal with the team, making us the preferred vodka of the Blues as well as the Scottrade
Center, the team's home arena and host to over 175 events a year that will now serve drinks featuring 360 as the vodka of choice. We've also just released the first Limited Edition St. Louis Blues bottle. You can read more of the details here.
Did you miss the eclipse?

The Moonshine Eclipse Watching Party went off as planned, despite the cloudy skies that diminished the viewing experience and kept some people away. For those who didn't get to experience the full effect locally due to the weather or who live in a state where the total eclipse did not occur, we thought we'd share this cool time-lapse video taken from the National World War I Museum and Memorial in Kansas City that lets you see what it looked like to experience totality! The next total solar eclipse will occur on April 8, 2024, and the path of totality will stretch from Texas to Maine.
Mango Tango
The 360 Vodka family of flavored vodkas has a new kid on the block… we are thrilled to introduce 360 Mango! It perfectly captures the sweet and succulent flavor of this tropical fruit, which is so popular worldwide that it is sometimes referred to as the "King of Fruits". The word on the street is that a national chain is interested in carrying this flavor in multiple states. We want to give a shout-out to Jessie Cook and her team in the tasting lab for the great work they do in creating new flavors like this one!

On the Road Again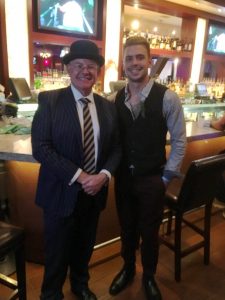 The Dawson Brothers continue to take the States by storm! Andy Dawson recently partnered with Tyrone Cox for the
Midwest Cocktail Competition in Indiana, a contest looking for a classic bartender with a creative flair to concoct a gin cocktail that highlights both the quality of Broker's Gin and the playful personality of the brand. Andy was on hand to serve as a judge, ultimately crowning an Indianapolis
bartender for his "Left Me Broker" cocktail.
Andy then moved on to a tour of Colorado with Cody
Schnurbusch, who was able to schedule Broker's Gin
"Master Classes" in three different cities. The Master Class is a fun event – perfect for gin enthusiasts or anyone who is
interested in learning more about gin. It includes a comparative tasting with other leading gin brands to demonstrate the ways that different botanicals and/or distillation methods result in such different-tasting gins.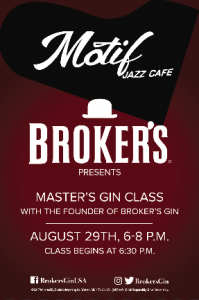 For our sales team who are planning events like these in your own
regions (whether for Broker's or any of our brands), keep in mind that you can ask the design team for things like flyers and table tents that are specific to your event. Here's an example of something Cody used in Colorado.
Employees in the News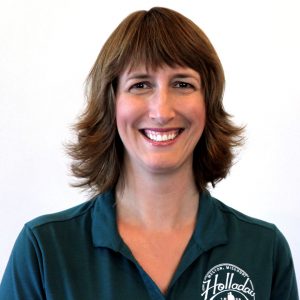 Network Administrator
Betsey Thurlo was recently invited to speak at the
upcoming Kintone Connect conference in San
Francisco, California, on November 3. This first
annual conference will bring together business leaders from various
industries to discuss the challenges of digital
transformation. Speakers will present on topics addressing how to best use cloud-based digital tools like Kintone to
support collaboration and increase efficiency. This invitation to speak is a huge honor for Betsey and a recognition of McCormick's efforts to use digital tools to transform our business practices, another example of our decades-long history of growth and innovation.
Employee Spotlight: Patty Oylear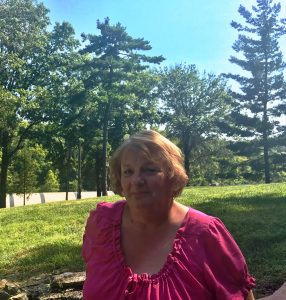 In this month's Employee Spotlight, we are very
happy to feature Control State Coordinator Patty Oylear, who will celebrate 40 years with the company in November of this year. Patty is a lifelong resident of Weston and her entire extended family still calls the town home, from her 91-year-old mother to her granddaughter Alyssa, who is a student at West
Platte Junior High. Patty's family had a tobacco farm, and her childhood memories include getting up early in the mornings to help pull tobacco plants and
riding behind her father's tractor on the tobacco
setter. Patty started at McCormick in 1977, doing work for the control and open states. In her time with the company, she has worked as the administrative assistant to two different presidents, Dick Cray and Russel French. Patty tells us that McCormick has changed and grown a lot in her time here, from the size of the company to the products we produce to the places where our brands are available. She's seen the full circle of on-site bourbon production – the still was in operation when she started, and she was here for the renovation and relaunch after it had gone quiet for three decades. She tells us that the production of decanters in the 1970s felt like a very big deal when it was happening, and that one of her favorite memories of those days is the mold-
crushing party that took place after the first Elvis Presley decanter had finished its production run. The company invited everyone for a cookout and cocktails, and the highlight of the evening was seeing the decanter's ceramic mold be broken to bits by a hammer. She said she's stayed as long as she has because McCormick is a fun and family-oriented business and that she
enjoys the people she gets to work with every day. Her favorite McCormick product is 360
Huckleberry, and she's especially partial to the 360 Walk-Off (360 Huckleberry mixed with lemonade). Be sure to stop by and say hi to Patty next time you're in the marketing house…
congratulate her on her upcoming anniversary with the company and ask her to tell you some stories about those earlier days! (pssst: She also has a birthday coming up next week!)
Happy Birthday to you…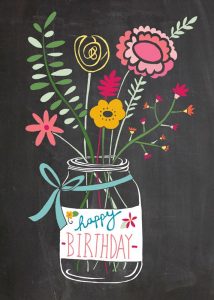 September 1: Kelly Brentano
September 3: Daniel Messerli
September 4: David Smith
September 7: Kyle Merklein
September 8: Jacob Shults
September 9: Mark Kocour
September 13: Kim Lawless
September 16: Lori Hoefling
September 17: Ranee Linck, Kammeron Mills
September 18: Peggy Grabau, Lesley Wenzl
September 22: Stephanie Pechar
September 26: Patty Oylear
September 27: Steven Carl, Mike Frizzell
September 30: Jerry Ebling
In Memoriam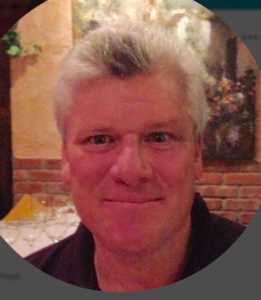 It is with great sadness that we share the news of the unexpected passing of Ed Lowry. Ed worked with Allyn Feldman's sales team on the East coast and was a
respected member of the McCormick family. If you wish to make a donation in Ed's memory, a fund has been
established to support the education of his young
children. Donations can be made to The Summer and Edmund Lowry Educational Fund, and mailed to S.W. Brown & Son Funeral Home, 267 Centre Street, Nutley, NJ, 07110.